With Google constantly updating its applications, it can be quite difficult to keep track of the new features that may now be included. One of which is the Filter View of Google Sheets. In a previous article we have already seen how to create a filter view, but this time, we will discuss elaborately the ways to delete filter views from Google Sheets.
---
How to Delete Filter Views in Google Sheets
Filter views are unique in the sense that each of these filters is created and saved in a virtual instance away from the main worksheet.
This makes filtering during a collaboration with others effectively error-free since the source data is not changed.
However, they still use memory and processing power every time the spreadsheet loads.
So, it is important to remove or delete unwanted filter views from a Google Sheets spreadsheet. This we can do for two scenarios:
Deleting a single filter view.
Deleting all filter views at once.
Let's see how it's done.
---
1. Remove/Delete a Single Filter View from Google Sheets
Thanks to filter views saving filters in a separate instance, we have separate options to apply to these that won't affect the original data.
Here is a typical filter view interface:
In the top right corner of the worksheet in Filter View, you'll notice a gear icon. This is the Filter View Options button.
Clicking this icon will present you with a menu containing all the basic functions that you can perform on the current filter view. One of these options is Delete.
Clicking on Delete will remove the current filter view from Google Sheets.
Alternatively, you can also find this Delete option for the current filter view from the Data tab of Google Sheets:
Data > Filter views > Filter view options > Delete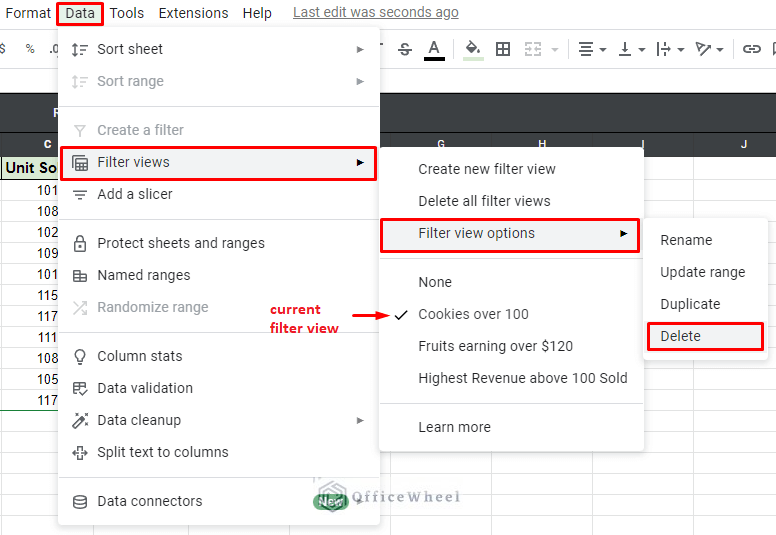 Read More: Filter Data Using Filter Views in Google Sheets (An Easy Guide)
---
Similar Readings
---
2. Remove/Delete Multiple Filter Views from Google Sheets
Thanks to the collaborative advantages that filter views provide, it is highly likely that there may be multiple filter views saved in the worksheet. Whether it be by the primary user or other collaborators.
You can see all of these listed under the Filter menu of the toolbar or the Data tab:
Right in this very menu, you will notice the option "Delete all filter views".
Selecting this option will completely remove all of the filter views currently saved in this Google Sheets worksheet.
Once again, we can get this option from the Data tab:
Data > Filter views > Delete all filter views
But it is selectable only if the user is currently in a filter view.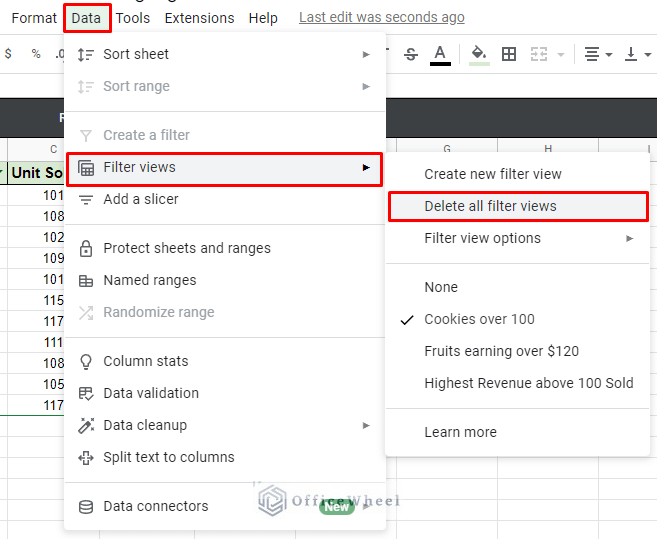 ---
Extra: Remove Filters from Google Sheets
Let's step back for a moment and have a look at regular filters in Google Sheets. With many users still unfamiliar with filter views, it is unsurprising that we still have users collaborating to use the traditional filter. This can lead to direct changes in the source data.
So, when possible, it is a good idea to clear up and remove any filters in the worksheet entirely.
If you want a complete refresh and delete all filter conditions currently active in the Google Sheets worksheet, then:
Navigate to the Data tab.
Select the Remove filter option.
Read More: How to Set a Filter in Google Sheets (An Easy Guide)
---
What are Filter Views in Google Sheets?
The filter view of Google Sheets is simply an arrangement of filters stored separately. This is huge for collaborating teams as each member can set their own filter in the same worksheet without having to worry about changing the base data.
Once created, the filter arrangement is saved under the name that the user provides. To go back to the base worksheet, simply turn off the filter view by pressing the "x" at the right edge of the filter view.
Here's a sample of opening and closing a filter view in Google Sheets: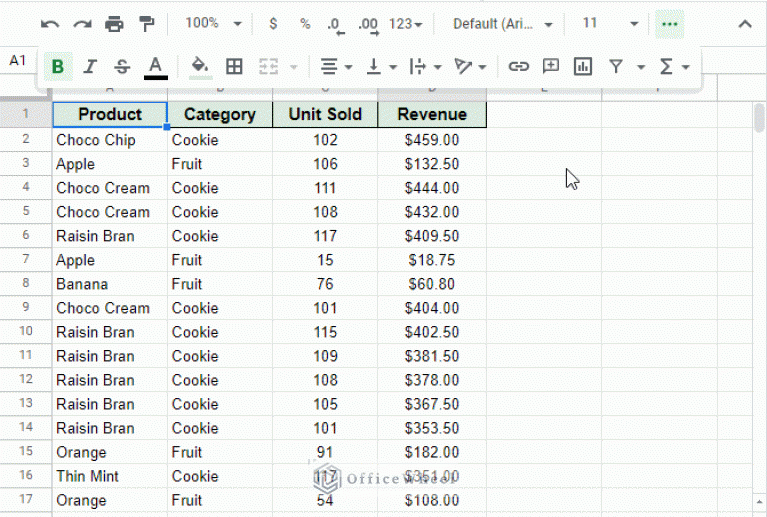 ---
Final Words
That concludes all the ways we can use to delete filter views from Google Sheets worksheets. Google Sheets has made collaborating with filters that much simpler by introducing filter views. And thanks to regular updates, using them has never been easier.
Feel free to leave any queries or advice you might have in the comments section below.
---
Related Articles