When working in groups, it's critical to communicate information both accurately and quickly. Here, Google Sheets provides the finest platform to notify multiple users of any updates or changes. The best part of  Google Sheets is it not only shares a file but also notifies the user about it. It allows you to grant different levels of permissions to people, effectively controlling who can edit your data. Thus, it makes sharing and collaboration quite simple.
---
A Sample of Practice Spreadsheet
You can copy the spreadsheet that we've used to prepare this article.
---
3 Ideal Examples to Notify Multiple Users in Google Sheets
Three situations are most often present whenever it needs to notify multiple users in Google Sheets. We'll go over each scenario in detail in this article.
1. Sharing Files with Multiple Users
Google designed a working environment to support organizational collaboration with its sharing-friendly Google Drive. Spreadsheet sharing became incredibly simple, allowing coworkers to participate whenever they wanted.
Steps:
Google Sheets has a box with the label "Share" in the upper right corner. Simply click it.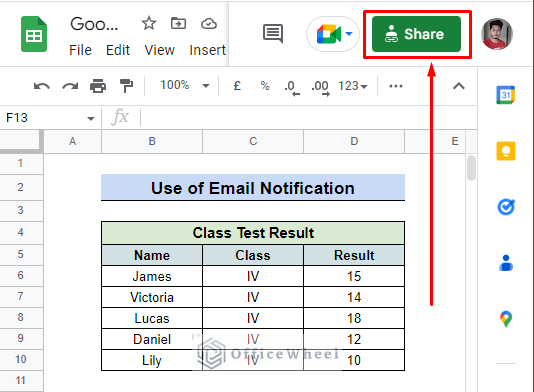 You'll receive a box that looks something like the image below. In reality, there are two ways to distribute the spreadsheet
You can type the names or emails of the people you want to share with directly.
You can send them the link immediately by using the underlined "Copy link"
This article will walk you through each feature and level of access that Google Sheets provides to its users. Start with the first possibility.
---
I. Add People and Groups
The simplest way to distribute a spreadsheet is through this method. It has some fantastic degree of access features in addition to notifying the user. A detailed explanation of this procedure is provided below for the convenience of readers.
Steps:
It will automatically begin recommending names or emails related to the word or letter as you begin typing it in the field. For instance, when we typed "g" in this instance, a list of possible users surfaced.
The following box will appear after choosing the user.
You can choose this access level of the user by selecting the Editor option with a downward pointing arrow. Three different access levels exist:
Viewer: It will only permit downloading, copying, and printing of the sheets for the user.
Commenters: They enjoy the same amount of access as viewers. They may, however, make comments as needed.
Editor: It gives the user complete access to the spreadsheet, just as its owner does.
Do not forget to select "✔" next to Notify People.
Finally, press Send to finish the procedure.
The box will vanish once you're done. To discover who else has access to this spreadsheet, you can click the Share option from the toolbar once again.
As seen in the figure below, a similar box will thereafter appear. The owner is listed first in this section under "People with access," followed by other users. By clicking the down arrow next to the Editor option, you may once again change the access level of the user. However, in addition to the prior access level, there are two more choices:
Transfer ownership: Sometimes it's necessary to alter the ownership. Google Sheets provides this access level, as a result, to address this issue and allow owners to change without losing data.
Remove access: If the owner deems a user's access to be troublesome, that is the best course of action to take.
---
II. General Access
It gives everyone access to the spreadsheet. You can select whether your spreadsheet should be made publicly accessible or just accessible to those with specific permissions. Anyone can visit the link and open the sheets if you provide access to everyone.
Steps:
Once again, if you click the down arrow beside the Anyone with the link, You will find two options available in this section:
Restricted: The choices limit who can access the link. The URL will be inaccessible to some people. To view the sheets, they will have to ask for permission first.
Anyone with the link: Anyone can access the URL with this permission; they can even download, copy, and share it with others.
Google Sheets, however, offers a fantastic feature for general accessibility. Simply by selecting the down arrow next to the viewer on the left, the owner can also limit their accessibility.
It provides three positions that are equivalent to the first three access levels, namely Viewer, Commenter, and Editor.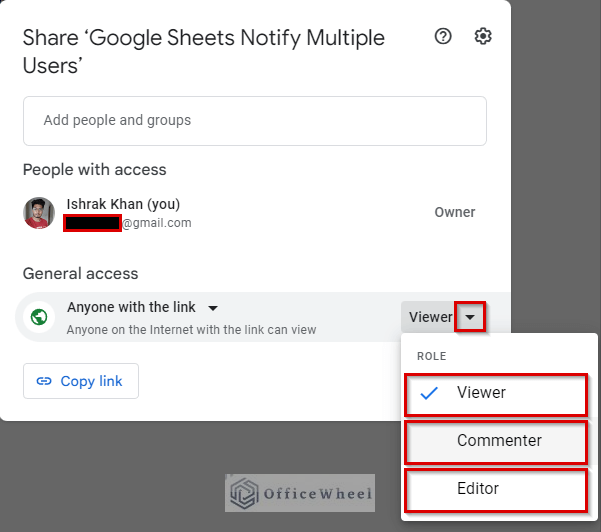 At the top left corner, there is a setting option as well. To change the functions of the roles specified in Google Sheets, click it.
By default, each box has a checkmark. However, the user has the option to uncheck these to further lower the access level.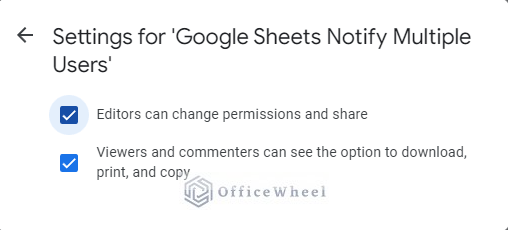 ---
2. Setting File Edit Notifications
This article is only about how to use google sheets email notifications to notify multiple users. There are not many steps to take. You must first set up Google Sheets email notifications before informing other users.
Consider that you are a teacher and that you have the test scores of your five students. You want to let them know. However, you must first establish the notification rules. Below are the steps and descriptions.
Steps:
From the toolbar, select Tools.
Choose Notification Settings from the window that will open up below the word Tools.
There are two options available: Edit notifications and Comment Notifications. (Check below for each description)
The following box will appear after clicking Edit Notifications. You will find yourself with the following options in the red-marked box. Brief explanations of what these terms mean are provided below.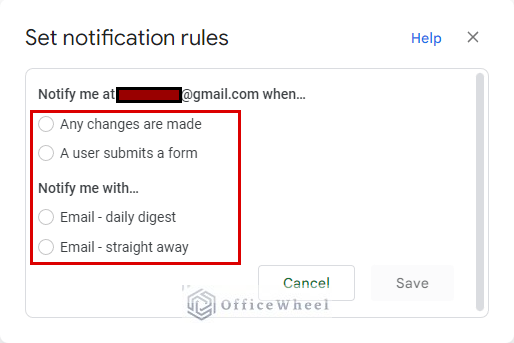 ---
I. Any Changes Are Made
Every change made to the spreadsheet is tracked when you select this option, and an email is sent after each modification. This can be done instantaneously or via a daily digest in Google Sheets.
---
II. A User Submits a Form
This choice can alert you each time a team member submits a form. Google Forms can be used to link forms to the spreadsheet. Surveys or a university admissions form fall within this category.
---
III. Email – Daily Digest
You can choose this if you want to receive the list of changes made by users at the end of the day or at a specific time. This is excellent for users who do not wish to immediately be informed of changes. You will receive notifications after the changes have been made.
---
IV. Email – Right Away
If you choose this option, an email will be sent to you each time your spreadsheet is modified. This is excellent for users who handle sensitive data and want to be notified whenever a change is made.
Assume that you chose the following choices for the aforementioned situation.
Notify me at [email protected] > Any changes are made
Notify me with… > Email-straight away
Next, select Save.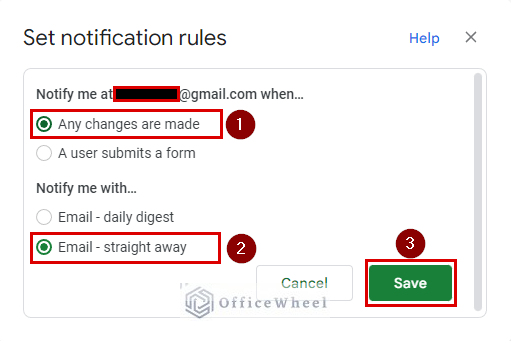 Afterward, a window looking like the one below will appear.
This establishes the first rule. At any time, you have the option to Edit or Delete it.
Simply click "Add another notification rule" to add other rules.
To make the rules effective, press Done.
---
3. Modifying Comment Notifications
You can change comment notifications using this option. If you click Comment Notifications, the following window will arrive. Here, you will find three options that will notify you whenever a user makes a comment. They are as follows:
All Comments: You will receive notifications of every comment posted on Google Sheets.

Comments for you:

This function only alerts you to comments that include your name. It is ideal for dealing with large amounts of data since, if you check your emails, you will locate them right away and be up to date on your task.
None: If you choose this option, you won't receive any emails about comments made in Google Sheets.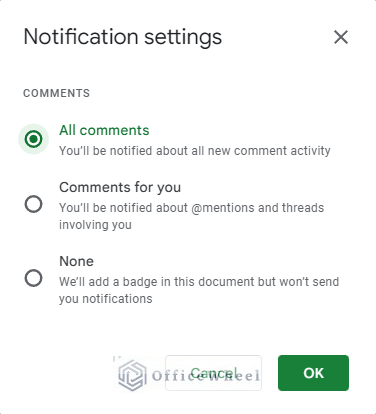 ---
Final Words
These are the situations that we encounter the most often while using Google Sheets to share and notify others. Hope you find this article helpful. If you have any thoughts or questions about notifying multiple users in Google Sheets, please let us know. For additional information, visit OfficeWheel, our website.