One feature is crucial when working online with a program like Google Sheets, and that feature is comments. You can collaborate on ideas, conflicts, and more by leaving notes for one another. You have the tools you need to successfully collaborate on your next spreadsheet thanks to the customizable feature of comments. This blog will show you how to add comment in google sheets.
---
A Sample of Practice Spreadsheet
---
3 Ways to Add Comment in Google Sheets
Technically, your own preference will determine which process you find simple and comfortable. In Google Sheets, you can post comments using the mouse, keyboard, or both at once. We are going to use a simple dataset for all the cases.
1. Using Mouse Click
The comment window is only two clicks away.
Steps:
Choose the cell you want to comment on; in this case, let's choose B9:C9 (they are merged in the following image).
To access the comment option, Right-click on the selection and scroll down to find Comment.
Click on the Comment option to open a text field.
We are going to write "No email is mentioned!" in the text field and click Comment.
Finally, we will have the output shown in the image below.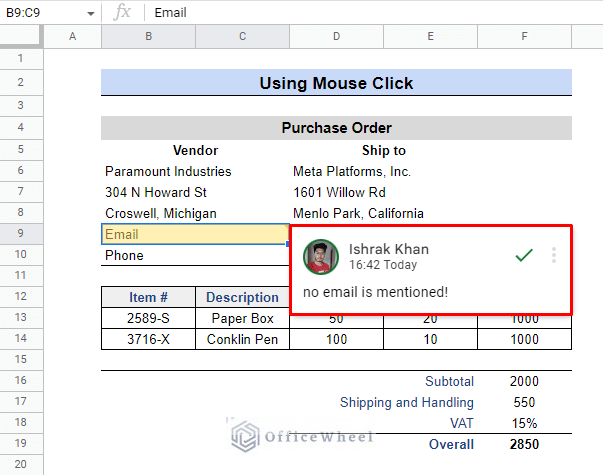 If you want to Edit, Delete, or Get the link to this comment, click the Three Dots button.
---
2. Through Keyboard Shortcut
Using the keyboard, you can quickly navigate to the Comment pop-up window.
Steps:
Let's choose the cell for this example, B9:C9
Press CTRL+ALT+M for Windows or CMD+ALT+M for Mac.
The comment window will appear in front of you right away.
For this example, We wrote "No email is mentioned!" in the text field.
After finishing, don't forget to click Comment.
You will find a yellow indicator in the top right corner of the cell.
The comment box will then appear if you move your mouse cursor over that particular cell later.
---
3. Utilizing the Toolbar Tab
You can also navigate the comment box from the Toolbar Tab.
Steps:
First, select the designated cell. For this example, B9:C9
Then, Insert > Comment
A text box for comments will appear.
Again, Let's write "No email is mentioned!" in the text field and CTRL+ENTER.
The cell will now be highlighted when you click on it, and you will have access to more options, including the comment section.
Click on the Open all comments.
A window with all the comments will appear on the right side. You will find all the comments in this section.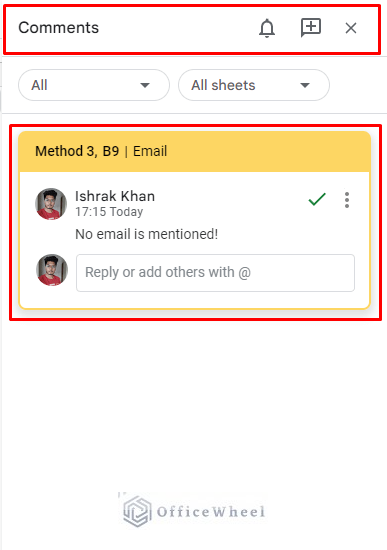 NOTE: Remember that adding a contact to a comment will not change the settings for sharing. In the Share options, be careful to grant the necessary access if you want someone to see or edit the document.

---
Final Words
Utilize the Google Sheets tips to work, comment, and collaborate. Make good use of your newfound knowledge of how to add comment in Google Sheets whenever deemed necessary. You may configure Google Sheets to your liking because it has a wide range of features that all function well together. You can check our blog, OfficeWheel, for more tips and tricks.
---
Related Articles